Sodium Chloride Sachet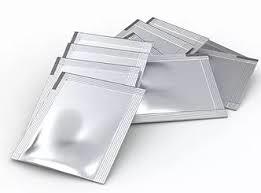 Sodium Chloride Sachet
Price And Quantity
Product Specifications
General Medicines

potassium chloride ,sodium chloride
Powder

1 or 2 sachets daily
Product Description
Nasal Solution is a non-medicated, preservative free saline irrigation sachet for nasal and sinus washing. When mixed with lukewarm water, each 7.8 g sachet will produce 200 ml of saline wash for use. This solution is an alkaline buffered hypertonic (2%) saline with xylitol.
Sodium chloride is used as a source of electrolytes (minerals in body fluids) and water to prevent dehydration (when loss of water exceeds water intake) and replenish the loss of sodium from body fluids in conditions like metabolic alkalosis (acid-base imbalance in body fluids that can cause serious complications) or diarrhea.
The solution is an alkaline buffered hypertonic saline solution with xylitol. An additive like xylitol makes the nasal membranes slippery, helping to guard against the pathogens inside the nasal cavity.  Xylitol also helps to inhibit the bacteria frequently associated with sinus infections. Xylitol is non-toxic and safe to be used.
Saline Nasal Irrigation (SNI) is known to be an adjunctive therapy for upper respiratory conditions which bathes the nasal cavity with saline solution. It is a simple, inexpensive procedure that has been used to treat upper respiratory conditions especially of the nasal cavity and the sinuses. SNI really is as simple as running a gentle saline solution through the nasal passages and sinuses. The procedure involves flushing the nasal cavity with saline solution which improves mucociliary clearance by moisturizing the nasal cavity and removing encrusted material. For the purpose of nasal irrigation, a high number of irrigation systems and methods are offered. These include the use of saline sprays, drops, syringes and squeeze-bottles.
The benefits derived from nasal saline use are likely due to one or more local effects, including decreased viscosity of nasal secretions, decreased edema of the nasal mucosa, and removal of debris, bacteria, allergens and inflammatory mediators.
Indications
Temporarily relieves symptoms associated with sinusitis, cold, flu or allergies for the treatment of inflammatory skin conditions such as severe eczema, dermatitis, psoriasis and rash.
Uses:
Sneezing
Nasal Stuffiness
Runny Nose
Post nasal drip
Removes inhaled irritants (dust, pollen)
Helps to loosen thick mucous
Moistens nasal passages
Viral upper respiratory infections
Allergic rhinitis
Nasal congestion
Post-operative conditions (especially after Functional Endoscopic Sinus Surgery i.e. FESS)
Benefits of Nasal Washing:
Saline nasal washings have been used for centuries to maintain clear nasal passages. The process can be referred to as rinsing, irrigation, douching or lavage. The regular use of a saline nasal wash can soothe, moisturize, and help keep the nose, sinuses and ears clear, clean and healthy. The benefits of sinus irrigation are numerous and affect one's health and well-being in a myriad of ways. Nasal washing can remove irritants, particles and debris keeping the passages clear while moisturizing and soothing irritated membranes. Some benefits of nasal solution are:
Daily practice improves both nasal and sinus health
Clears out sticky, thick mucus and helps reduce nasal congestion by thinning secretions
Allows the sinus cavities to drain freely so allergens, irritants, bacteria, viruses and contaminants can be eliminated
Helps prevent upper respiratory infections like the common cold
Reduces dependency on medications such as antibiotics, antihistamines, nasal steroids, decongestants and asthma medications
Relieves nasal dryness
Improves sense of smell and taste
Helps to treat sinusitis and rhinitis
Reduces allergic rhinitis
Reduces coughing and other symptoms of post-nasal drip
May reduce snoring
May reduce nose bleeds
Clears airways affected by nose woes associated with pregnancy and maturity
Cleanses the nasal tissues stressed by radiation therapy to the head and sinus area
Deeper, more relaxed breathing
Recommended usage:
Saline nasal irrigation can be done once or twice a day. However, the dosage and duration of use may vary depending on the condition for which it is used.
Saline nasal irrigation can be done anytime of the day. However, it is recommended that nasal washing is done at least one hour before going to bed.
Direction for use:
Dissolve the content of one packet in 200 ml lukewarm water (previously boiled).
Stir thoroughly until dry ingredients have completed dissolved.
Take the hypertonic saline solution in rubber bulb syringe by squeezing the bulb.
Tilting the head, pour solution in one nostril.
Proper head position allows solution to flow through the nose by gravity.
The solution will freely flow through one nostril, comes out through the other, pulls along allergens and thick mucus.
Once completed, exhale through both nostrils to clear excess mucus and solution.
Repeat the procedure through other nostril.
Warning
: To be used with Rubber bulb syringe only; provided along with the pack.
Each Sachet for Single Use Only.
Mechanism of Action:
Sodium chloride belongs to the class of medications called electrolytes or osmotic agents. It works by controlling fluid and electrolyte balance and increases water retention(by regulating osmotic pressure), thereby increasing water content in the body. It also plays an important role in maintenance of acid-base balance of body fluids. 
The mucus lining of the nasal cavity constitutes one of the body's first lines of defense against potential pathogenic organisms, and these organisms may subsequently become entrapped in the mucus. SNI may enhance the movement of the mucus in the nasopharynx, directly clean the nasal mucosa, and aid in thinning nasal secretions. It may promote clearance of inflammatory mediators such as histamines and prostaglandins prevent secondary infection and promote mucosal healing. SNI is also thought to play an important role in the postoperative period; because it reduces the risk of adhesions and promotes ostiomeatal patency. Finally, chronic sinonasal disease leads to a decline in mucociliary clearance and this is presumed to be a result of osmotic changes in the mucus layer or reduction in the ciliary beat frequency.
Thus, the procedure involves flushing the nasal cavity with saline solution, which majorly promotes the following four conditions:
Direct physical cleaning of mucus, crusts, debris, allergens and air pollutants
Removal of inflammatory mediators (histamines, leukotrienes, prostaglandins)
Improved mucociliary clearance by moisturizing the nasal cavity and improved ciliary beating
Evidence shows that pulsating saline irrigation can remove bacteria also
Pregnancy and Lactation:
Sodium chloride should only be used if the potential benefits justify the potential risk to the baby. Please follow your doctor's advice regarding its use.
During pregnancy, it should be used only when clearly needed. Discuss the risks and benefits with your doctor.
It is unknown if this medication passes into breast milk. Consult your doctor before breast-feeding.
Side Effects:
Side effects usually do not occur with this product. However, stinging may occur due to dryness of nose.If this effect persists or worsens, tell your doctor or pharmacist promptly.
Shelf Life:
2 years
The preparation should not be used after the expiry date.
Storage:
Store below 30C.
Trade Information
Cash in Advance (CID), Cash Advance (CA)

300 Per Month
Sample costs shipping and taxes has to be paid by the buyer

Africa, Middle East, Western Europe, Eastern Europe, South America, North America, Central America, Australia, Asia