Ferrous Fumarate, Folic Acid, Vitamin B12 & Zinc Capsule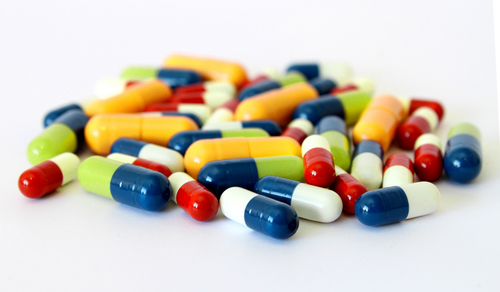 Ferrous Fumarate, Folic Acid, Vitamin B12 & Zinc Capsule
Price And Quantity
Product Specifications
General Medicines

Folic Acid, Vitamin B12 & Zinc
Product Description
Iron is a mineral that is an essential constituent of blood and muscle, and is required for the transport of oxygen. The primary role of iron relates to the ability of red blood cells to adequately carry oxygen.
Folic acid is a member of the B-vitamin family. It occurs naturally in foods as folates, and is available in synthetic form in vitamin pills. Folic Acid helps prevent neural tube defects (NTDs) – serious birth defects of the spinal cord (such as spina bifida) and the brain (anencephaly).
Vitamin B12 is an essential which is involved in regulating metabolism. In addition, vitamin B12 aids in the formation of red blood cells and in the maintenance of the central nervous system. Vitamin B12 is also required for the proper function and development of the brain.
Zinc, being an important mineral plays a vital role for the protein synthesis and helps in regulation of the cells production in the immune system of the human body.
Indications:
Prevention of iron deficiency in pregnancy.
Mechanism of Action:
Ferrous fumarate is an iron compound that is used in the prevention and treatment of iron-deficient anaemia. Folic acid is a vitamin B that is used in the prevention and treatment of folate-deficient state. They are used together in pregnant women (2nd and 3rd trimesters) for the prevention of iron deficiency and megaloblastic anaemia of pregnancy. Mecobalamin is a cofactor in the enzyme methionine synthase, which functions to transfer methyl groups for the regeneration of methionine from homocysteine. In anaemia, it increases erythrocyte production by promoting nucleic acid synthesis in the bone marrow and by promoting maturation and division of erythrocytes.
Pharmacokinetics:
Absorption:
Ferrous fumarate: Absorption takes place mainly in the duodenum and jejunum; aided by gastric acid secretion. Folic acid: Absorption takes place mainly in the proximal part of the small intestine. Vitamin B12 Peak plasma concentrations after 3 hr (oral); 0.9 hr (IM); 3 min (IV).
Distribution:
Ferrous fumarate: Ferrous iron passes through the GI mucosal cells, bind to transferrin and is then transported to the bone marrow and incorporated into haemoglobin. Folic acid: Extensively bound to plasma proteins.
Metabolism:
Folic acid: Largely metabolized in the liver.
Excretion:
Ferrous fumarate: Mainly through the faeces and desquamation of cells e.g. skin, hair or GI mucosa. Folic acid and Vitamin B12 mainly excreted in the urine.
Drug Interactions:
Concurrent admin may reduce the efficacy of fluoroquinolones, levodopa, carbidopa, thyroxine and bisphosphonates. Iron may reduce the absorption of penicillamine by forming complexes. Concurrent admin with tetracycline may lead to reduced absorption of tetracycline and iron. Antacids may reduce the absorption of iron. Serum levels of anticonvulsants may be reduced by folic acid.
Adverse Reactions:
GIT discomfort, Anorexia, Nausea, Vomiting, Constipation, Diarrhea. Stool darkening may occur.
Precautions:
Avoid use in patients with active peptic ulcer, repeated blood transfusion, regional enteritis and ulcerative colitis. Caution when used in patients with folate-dependent tumours. Not recommended for use during 1st trimester of pregnancy.
Storage:
Store in cool and dark place.
Trade Information
Cash in Advance (CID), Cash Advance (CA)

300 Per Month
Sample costs shipping and taxes has to be paid by the buyer

Africa, Middle East, Western Europe, Eastern Europe, South America, North America, Central America, Australia, Asia