Clindamycin Capsule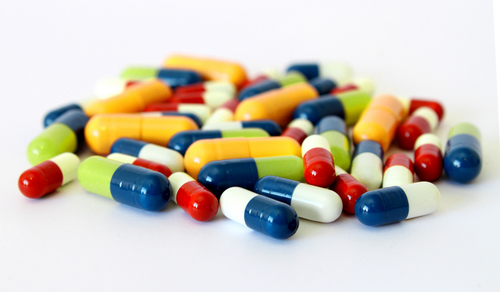 Clindamycin Capsule
Price And Quantity
Product Specifications
General Medicines

lactose monohydrate, maize starch, magnesium stearate, talc.
Product Description
Clindamycin hydrochloride
is the hydrated hydrochloride salt of clindamycin and it is a semi synthetic antibiotic produced by a 7(S)-chloro-substitution of the 7(R)-hydroxyl group of the parent compound lincomycin.
Clindamycin 300 mg capsules belong to a group of medicines called antibiotics. Antibiotics are used to treat serious bacterial infections.
Indications:
Prophylaxis of infection in neck and head surgery.
Uses:
Clindamycin hydrochloride has been shown to be effective in the treatment of the following infections when caused by susceptible anaerobic bacteria or susceptible strains of grampositive bacteria such as streptococci, staphylococci and pneumococci:
Upper respiratory infections including tonsillitis, pharyngitis, sinusitis, otitis media and scarletfever.
Lower respiratory infections including bronchitis, pneumonia, empyema and lung abscess.
Skin and soft tissue infections including acne, furuncles, cellulitis, impetigo, abscesses, and wound infections. For specific skin and soft tissue infections like erysipelas and paronychia (panaritium), it would seem logical that these conditions would respond very well to clindamycin therapy.
Bone and joint infections including osteomyelitis and septic arthritis.
Pelvic infections including endometritis, cellulitis, vaginal cuff infection, tubo-ovarian abscesses, salpingitis and pelvic inflammatory disease when given in conjunction with an antibiotic of appropriate gram-negative aerobic spectrum. In cases of cervicitis due to Chlamydia trachomatis, mono therapy with clindamycin has been shown to be effective in eradicating the organism.
Intra-abdominal infections including peritonitis and abdominal abscess when given in conjunction with an antibiotic of appropriate gram-negative aerobic spectrum.
Septicaemia and endocarditis - the effectiveness of clindamycin in the treatment of selected cases of endocarditis has been documented when clindamycin is determined to be bactericidal to the infecting organism by in vitro testing of appropriate achievable serum concentrations.
Dental infections such as periodontal abscess and periodontitis.
As an alternative therapy when used in combination with quinine for the treatment of multi-drug resistant Plasmodium falciparum infection.
Pharmacology:
Pharmacodynamic Properties:
Mechanism of action:
Clindamycin is a lincosamide antibiotic with a primarily bacteriostatic action against Gram-positive aerobes and a wide range of anaerobic bacteria. Lincosamides such as clindamycin bind to the 50S subunit of the bacterial ribosome similarly to macrolides such as erythromycin and inhibit the early stages of protein synthesis. The action of clindamycin is predominantly bacteriostatic although high concentrations may be slowly bactericidal against sensitive strains.
Mechanism of resistance:
Resistance to clindamycin usually occurs via macrolide-lincosamide-streptogramin B (MLSB) type of resistance, which may be constitutive or inducible.
Breakpoints:
The minimum inhibitory concentrations (MIC) breakpoints are as follows: Eucast Staphylococci: sensitive 0.5 resistant> 0.5 Streptococci ABCG and pneumoniae: sensitive 0.5 resistant> 0.5 Gram positive anaerobes: sensitive 4 resistant> 4 Gram negative anaerobes: 4 resistant> 4
Susceptibility:
The prevalence of acquired resistance may vary geographically and with time for selected species and local information on resistance is desirable, particularly when treating severe infections. As necessary, expert advice should be sought when local prevalence of resistance is such that the utility of the agent in at least some types of infections is questionable
Pharmacokinetics:
Absorption:
After oral administration clindamycin is absorbed quickly and almost completely (>90%). The absorption is not affected by food. The peak plasma concentration is achieved within approximately 45 minutes after oral administration. The bioavailability is non-linear and decreases with increasing doses. Following a 600 mg dose the absolute bioavailability is 5314%.
Distribution:
Clindamycin is widely distributed in body fluids and tissues. It diffuses across the placenta but not the healthy blood-brain barrier. 68 93 % of clindamycin in the circulation is bound to plasma proteins. Clindamycin is distributed very highly intracellular due to the lipophilic properties. The intracellular concentrations are 10-50 times higher than the extracellular concentrations.
Metabolism:
Clindamycin undergoes metabolism, presumably in the liver, to the active N-demethyl and sulphoxide metabolites, and also some inactive metabolites and about 4% in the faeces: the remainder is excreted as inactive metabolites.
Elimination:
Half-life is approximately two and a half hour in children and approximately 3 hours in adults.Clindamycin is excreted as biological active and biological inactive metabolites in faeces, urine and bile. Faecal excretion is predominant. About 10% of the drug is excreted in the urine as active drug and about 4% in the faeces; the remainder is excreted as inactive metabolites.
Pregnancy & lactation:
Pregnancy and breast-feeding if you are pregnant or breast-feeding think you may be pregnant or are planning to have a baby, ask your doctor for advice before taking this medicine. The effects of Clindamycin capsules on the unborn child are not known. Tell your doctor if you will be breast feeding while taking Clindamycin capsules as the active substance in this medicine may be passed into breast milk.
Warning & Precaution:
Talk to your doctor or pharmacist before taking Clindamycin capsules
If you have diarrhea or usually get diarrhea when you take antibiotics or have ever suffered from problems with your stomach or intestines. If you develop severe or prolonged or bloody diarrhea during or after using Clindamycin capsules tell your doctor immediately since it may be necessary to interrupt the treatment. This may be a sign of bowel inflammation (pseudomembranous colitis) which can occur following treatment with antibiotics.
If you suffer from problems with your kidneys or liver.
If you suffer from asthma, eczema or hay fevers.
If you have been told by your doctor that you have an intolerance to some sugar.
Adverse Drug Reactions:
Diarrhoea, abdominal pain, dyspepsia, constipation, flatulence, nausea and vomiting; abnormal vaginal bleeding, cramps, increased uterine contractility, headache.
Driving and Using Machines:
No effects have been reported on the ability to drive or use machines after taking Clindamycin capsules.
Storage:
Store in a cool, dry & dark place. Protected from direct sunlight.
Trade Information
Cash in Advance (CID), Cash Advance (CA)

300 Per Month
Sample costs shipping and taxes has to be paid by the buyer

Africa, Middle East, Western Europe, Eastern Europe, South America, North America, Central America, Australia, Asia