Acebrophylline Capsule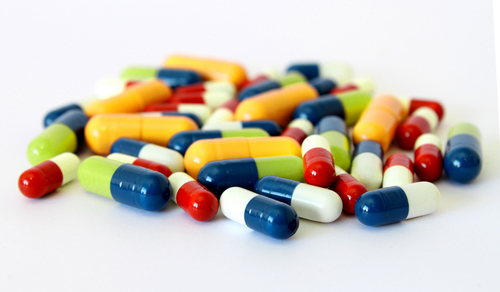 Acebrophylline Capsule
Price And Quantity
Product Specifications
General Medicines

ambroxol and theophylline.
Product Description
Acebrophylline Capsule
is prescribed for treatment of chronic obstructive pulmonary diseases, bronchitis, asthma, and other respiratory conditions. Active chemical utilized in its formulation comprises ambroxol & theophylline that works by relaxing smooth muscles present in lungs airways. This capsule is also known to work by loosening & thinning mucus and assisting in easy breath.
Acebrophylline Capsule
also provides relief from pain in acute sore throat condition.
Features:
Have targeted mode of action
Also considered as potent neuronal Na+ channel inhibitor
Possesses anti-inflammatory property
Acebrophylline belongs to category of drug groups primarily affecting the respiratory system drugs. Acebrophylline is a type of alkaloids and it used to treat COPD. Acebrophylline is an air way mucus regulator with anti-inflammatory action.
Acebrophylline has 3 actions namely bronchodilation, mucoregulation & anti-inflammatory action.

Indications:
Treatment of adult patients with COPD and bronchial asthma.

Usage:
● As it is EDC free, hence safer than conventional Acebrophylline.
● Acebrophylline has both mucous regulating and Bronchodilator effect unlike Theophylline.
● Acebrophylline is more active than Ambroxol alone.
● Acebrophylline has less adverse effect.

Drug Interactions:
The plasma concentration of acebrophylline may be concurrent administration of erythromycin, cephalexin, oxytetracyclline, oligomycin, lincomycin, cimetidine, clindamycin, allopurinol, quinolones, anticoagulants, etc. If concurrent use is essential, the dose of acebrophylline should be reduced. The concomitant use of acebrophylline and frusimide can potentiate dieresis, while concomitant use of acebrophylline with reserpine can cause tachycardia. Acebrophylline plasma concentration may be decreased in patients by co administration with drugs like phenytoin and barbiturates and in patients with smoking habit. Not to use with CNS stimulants.

Mechanism of Action:
Theophylline-7-acetate, as with otherxanthinic derivatives, has a bronchodilator effect dueto inhibition of the intracellular phosphodiesterases,followed by an increase of adenosine monophosphatecyclic levels, which promote the relaxation ofbronchial muscles.
Ambroxol modifies the mucous gel phase ofsecretions by decreasing the viscosity and increasingthe serous gel phase. It increases the mucociliaryclearance by stimulating cilia motility.
Acebrophylline inhibits phospholipase A, andphosphatidylcholine leading to lesser production ofthe powerful pro-inflammatory substances likeleukotrienes and tumour necrosis factor. By inhibitingthe synthesis and release of these inflammatorymediators, acebrophylline reduces inflammation, akey factor in airway obstruction, specially inchronic forms.

Pharmacology:
Acebrophylline increases the synthesis and release of alveolar surfactant, resulting in triple action: mucoregulation, stimulation of bronchoalveolar clearance, and antiinflammatory-antireactive effect. In patients with chronic obstructive bronchitis, given the drug for 10-20 days, there was a good reduction in expectorateViscosity.

Pharmacokinetics:
200mg oral acebrophylline, the two components of the moleculeambroxol and theophylline-7-acetic acid are releasedin the stomach and absorbed in the intestine, reachingoptimal concentrations of ambroxol within 2hrs andof theophylline-7-acetic acid after 1 hr. The plasmahalf life varies from 4 to 9 hrs after oral administration.The drug is metabolized in the liver and eliminatedrenally.

Side Effects:
Epigastric pain, Nausea, Vomiting, Diarrhoea.

Contraindications:
Hypersensitivity to ambroxol, aacebrophylline, theophylline or any other xanthine derivative,Patient suffering from acute myocardial infarction, hypotension, hemodynamic instability and arrhythmias, renal disease or liver disorder.

Adverse Effects:
Abdominal, discomfort, stomach/ abdominal distenson, vomiting, diarrhea, constipation, heart burn, loss of appetite, esophageal bleeding, rashes, urticaria, itching, drowsiness, difficulty in breathing, leukocytosis and nasal inflammation. If chills and fever occur, the drug should be immediately discontinued. Tachycardia, fatigue, hypertension, albuminuria, glycosuria, hypotenstion, occastonally hyperglycemia.

Storage:
Store at room temperature, 15-30° C (59-86°F). Keep away from moisture.
Trade Information
Cash in Advance (CID), Cash Advance (CA)

300 Per Month
Sample costs shipping and taxes has to be paid by the buyer

Africa, Middle East, Western Europe, Eastern Europe, South America, North America, Central America, Australia, Asia